We offer skippers ticket courses in Mandurah and the South West – including Australind, Bunbury & Busselton
(For all Perth metropolitan courses please go to Perth home page)
FREE ONLINE RECREATIONAL SKIPPERS TICKET COURSE – THE ONLY ONLINE COURSE IN WA!
THE BEST AND EASIEST WAY TO LEARN -> CONTAINS VIDEOS – LESSONS – MULTI ATTEMPT QUIZZES – RESULTS FEEDBACK – PROGRESS CHECKS.
See our schedule, then book and pay for either course below.
You will then receive your login information to start learning now!
PWC Recreational Skippers Ticket Training and Assessment

PWC Recreational Skippers Ticket Training and Assessment for your new boat and jet ski (PWC) suitable for complete beginners
Comprehensive Training and Assessment Course. $260* ($250 per person for 2 or more)

All of our courses are designed with the novice in mind, providing everything you need to walk away with the skills and knowledge to get out on the water on your own. We want you to be confident to enjoy our waterways safely as a skipper. It all starts here…from choosing a location and time that suits you below, and then you will be emailed our unique online training course which is filled with interesting videos and quizzes so you can start learning now.
When you come along on the day to become a skipper one of our highly trained and experienced assessors will spend the time with you prior to the multi choice questionnaire to make sure you understood the theoretical side as it is almost another language. Once you have passed this, we get straight on the boat (after a toilet break) and into the hands on training you require to pass your practical test. Driving a boat is not difficult but remembering all the steps required by DoT requires time actually doing it. We do not put a stop watch on it takes as much time as it takes on 1 of our custom training boats, so a low pressure environment is created and relaxed skippers get better results.
Spend the time doing the online course at home (3-4hrs) and from a complete novice you should have your skippers ticket easily by the end of the day. If for whatever reason you fail anything we do not charge you again, zero. This eases peoples nerves again which gives us better results. With us you only pay for the course once and there are no extra costs to resit a theory or a practical test.
* A $10 surcharge is added to weekend and public holiday courses so we can pay our trainers properly for giving up their weekends
Note: There is a $30 Department of Transport fee for every Recreational Skippers Ticket in Western Australia that we must collect off you for the Department of Transport. This is payable at the end of the course once you have passed.
CAUTION: Beware of supposedly cheap courses from other so called "Boat Schools" that do not mention boat hire fees (with all our courses the boat use comes for free), resit costs if you fail theory or practical and Department of Transport fees or promise any boat ramp/any time and then won't deliver. If unsure ring them up and ask them questions and what you get for your hard earned money, BUYER BEWARE.
Book & Pay Online Now to receive the FREE Online Course
Use our easy booking system using the links below, or call Pete on 0488 188 817
Course locations Mandurah, Australind, Bunbury and Busselton.
Mandurah and the South West Recreational Skippers Ticket Provider
Born and bred in Perth Pete has skippered all through Western Australia (and the rest of the country) and was one of the original recreational skippers ticket assessors starting in 2006 before it was law to even have an RST.
Pete is the Training Coordinator and Vessel Manager and has a team of 3 instructors servicing our Mandurah and the South West training centre. Pete and the team have a combination of extensive industry experience totalling hundreds of years. They've trained thousands upon thousands of happy students so you can be confidant you'll get into boating in a fun environment; coupled with professional training.
Call Pete on 0488 188 817

About the Recreational Skippers Ticket training and assessment process
You will need to pass a closed book multiple choice test in the presence of our approved ABC instructor. You need to get 34/40 or better to pass. If you get between 30 and 33 out of 40 you fail but can resit another test immediately although charges will apply if on the budget course (there are 5 different tests). If you get lower than 30 or fail the second test you must come back another day, you cannot move onto the practical until you have passed the theory.
It is essential you know the online theory training well and have spent hours going over it otherwise it is too difficult to pass. Common sense will not get you through but if you do the online work you will pass the theory but there are no shortcuts. Please bear this in mind when choosing your course.
Once you pass the theory the fun part starts where we put it all together on the boat. There are 11 practical tasks which are all available online on our Australian Boating College YouTube channel so you know what to expect. The practical is very straight forward, we demonstrate the tasks you practice the tasks and when you are ready we go into test mode and you do a little circuit which usually only takes 10 minutes and you are done. We provide full training in either course for the practical, driving a boat is not overly difficult but remembering all the steps you need to do is the hard part. It's like doing a driving lesson just before you do your test.
Once passed the practical you need to pay the $30 Department of Transport fee and then we issue you with an interim RST which allows you to skipper your recreational vessel immediately. We lodge your paperwork and the $30fee with Department of Transport and then about 6 weeks later you get your plastic Recreational Skippers Ticket in the mail that never expires.
About ABC Perth/Mandurah
With Australian Boating College Perth/Mandurah, obtaining a ticket to operate your boat or PWC  is made simple, with dedicated instructors who bring practical and theory together on the day of training.
Australian Boating College (ABC) is the largest provider of Australian PWC (Jet Ski) and recreational boat training;
We are a Registered Training Organisation (RTO 3399) and we conform to National VET Training Standards;
Every student receives high quality training and assessment processes;
You have access right now to free online training quizzes which will help you prepare for the MCQ exam;
You will experience safe, modern, comfortable vessels for practical training, which are similar vessels to what you will most likely be owning yourself;
We conduct boat and PWC licence training courses Australia wide;
We deliver extremely good value for money with prices that are competitive;
We began training students for Boat Licences and PWC Licences in 1994;
We operate our training courses under documented safety systems;
Our instructors are hand-picked for their friendly manner, experience and ability to teach; which in turn delivers more students passing the exam.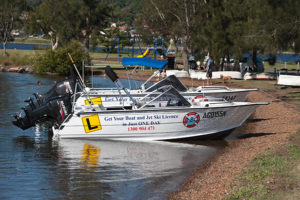 Testimonials
Here are some testimonials from those who have attended out Recreational Boating Courses…
Very Professional, Always Put Their Students First…

"Most of my family and I recently completed our Recreational Skippers Tickets at Australian Boating College. We found them to be professional and they always put the students first. Their Training Coordinator was very patient and also a lot of fun; while some of us had prior experience we still learnt a lot from the course. I would highly recommend Australian Boating College Courses to anyone, of any age or skill level."
Roy
Course Was Very Well Run, I Will Recommend It…

"Jane and I would like to thank you for making the course an enjoyable and stress free event. Jane was a bit nervous at first during the practical session, but with your mild manner and positive demeanour you made her feel at ease and she passed with flying colours. We thought your course was very well run, and I will recommend your company to all my friends and associates who are looking at completing the WA Recreational Skippers Ticket."

Billy Hopkins
Implementation Co-ordinator
– North Rankin A Transfield Worley
– WEL (Integrated Services Contract)
Superb Manner In Which You Conducted The Test…

"This is just a short note to say thank you very much for the RST course you conducted for Dave and myself last week, I am really glad to have got it done and out the way before the rush hits next March!  Your delivery of the theoretical work was truly professional, and more importantly, easily understandable.  Also I really appreciated the superb manner in which you conducted the practical side of the test, it was most informative, and whats more, enjoyable too.

Peter once again thanks for a superb day, and I for one have no hesitation in recommending you as a supplier of the Recreational Skippers Ticket course."

Glenn Armstrong
(Recreational Skipper!!!!)
We also offer GIFT VOUCHERS!! Our gift vouchers are valid for 12 months.