We provide Western Australia Recreational Skippers Ticket courses around Perth And Mandurah.

You can see our schedule, and book and pay online now using the Select button below, or call us for your Recreational Skippers Ticket Course.
Our Course Information page on the menu above has a full description of the theory and practical assessment process, including videos and explanation
of what you will have to do for the practical on-water assessment.
ABOUT US
Our ABC Perth/Mandurah Division is owned and operated by senior instructor Peter Ilott who has worked up and down WA's coastline since the 1980's in many commercial roles. 
Pete has trained WA recreational skippers since 2006, when the Recreational Skippers Ticket scheme was introduced.
His team of Recreational Skippers Ticket approved instructors have extensive experience on the water all over WA. But more importantly for you, have successfully trained thousands of WA Recreational Skippers.
This means you can be confidant you will get into boating after having been trained and assessed by professionals; in a fun environment, and with professional training that's been proven over many years to help new boaters pass the assessment.
All our training vessels are in commercial survey and carry additional safety gear at all times to meet Australian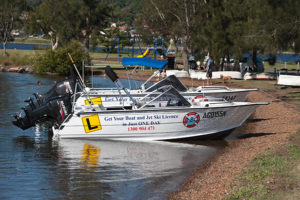 Maritime Safety Authority requirements.
With Australian Boating College, obtaining a Recreational Skippers Ticket to operate your boat or PWC  is made simple.
Australian Boating College (ABC) is the largest provider of Australian PWC (Jet Ski) and recreational boat training;
We are a Registered Training Organisation (RTO 3399) and we conform to National VET Training Standards;
Every student receives high quality training and assessment processes;
You have access right now to free online training quizzes which will help you prepare for the MCQ exam;
You will experience safe, modern, comfortable vessels for practical training, which are similar vessels to what you will most likely be owning yourself
We conduct boat and PWC training courses Australia wide;
We deliver extremely good value for money with prices that are competitive;
We began training students for marine licences in 1994;
We operate our RST training courses under documented safety systems;
Our instructors are hand-picked for their friendly manner, experience and ability to teach.