We provide Western Australia Recreational Skippers Ticket courses around Perth, Rockingham and Mandurah.

Need to get a Recreational Skippers Ticket or Boat License but not sure where to start? Welcome to Western Australia's premier training centre for gaining your RST that guarantees you Pass or your next course is FREE!
Over 10 years training 1000's of WA Skippers.
Better training techniques + better trainers.
Means you become a better skipper, simple.
Our Guarantee:  100% Pass Rate or next course is FREE of charge!
Suburbs include Hillarys, Mindarie, Mount Pleasant, Bayswater / Maylands, Mandurah and Rockingham in Western Australia.
We run recreational skippers tickets 7 days a week (expect weekends to be busier).
We provide free online training material produced after training 1000's of students to get you guys ready for the day (go to course information page).
We provide stress free environments to do your recreational skippers ticket. This means we do not use places like Hillarys on a weekend in January, as you will be interacting with 20 other boats (some of which may be driving up the wrong side of the channel) and you need to deal with it in a test situation. These areas are already too crowded (even finding a carpark can be a mission) so us adding to congestion with learners on the water is crazy. This might mean you need to drive 30 minutes to a location suitable but there is always a reason why we run courses when and where we run them, after 12 years you'd hope we know what we are doing in Perth.
You can see our schedule, and book and pay online now using the Select button below, or call us for your Recreational Skippers Ticket Course.
Our Course Information page on the menu above has a full description of the theory and practical assessment process, including videos and explanation of what you will have to do for the practical on-water assessment.
Regulations state that anyone who wishes to operate a recreational vessel over 6 horsepower (jet ski's included) must have at least 1 person on the vessel at all times that holds a RST.
Please allow 3-4 hours to complete your recreational skippers ticket properly.
ABOUT US

Our ABC Perth/Mandurah Division is owned and operated by senior instructor Peter Ilott who has worked up and down WA's coastline since the 1980's in many commercial roles.
Pete has trained WA recreational skippers since 2006, when the Recreational Skippers Ticket scheme was introduced. His team of Recreational Skippers Ticket approved instructors have extensive experience on the water all over WA including Rockingham, Mandurah, Hillarys, Mindarie and Canning. But more importantly for you, they have successfully trained thousands of WA Recreational Skippers.
This means you can be confidant you will get into boating after having been trained and assessed by professionals; in a fun environment, and with professional training that's been proven over many years to help new boaters pass the assessment. All our training vessels are in commercial survey and carry additional safety gear at all times to meet Australian Maritime Safety Authority requirements. This is Western Australia's premier boat license training centre.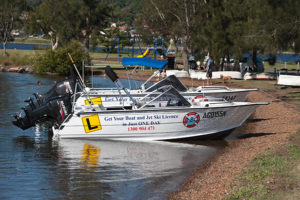 With Australian Boating College, obtaining a Recreational Skippers Ticket to operate your boat or PWC  is made simple.
Australian Boating College (ABC) is the largest provider of Australian PWC (Jet Ski) and recreational boat training;
We are a Registered Training Organisation (RTO 3399) and we conform to National VET Training Standards;
Every student receives high quality training and assessment processes;
You have access right now to free online training quizzes which will help you prepare for the MCQ exam;
You will experience safe, modern, comfortable vessels for practical training, which are similar vessels to what you will most likely be owning yourself
We conduct boat and PWC training courses Australia wide;
We deliver extremely good value for money with prices that are competitive;
We began training students for marine licences in 1994;
We operate our RST training courses under documented safety systems;
Our instructors are hand-picked for their friendly manner, experience and ability to teach.
We also offer GIFT VOUCHERS!! Our gift vouchers are valid for 12 months.
Recreational Skippers Ticket, Boat Licence
Get your Recreational Skippers Ticket Perth, Western Australia with Australian Boating College.
Read What Others Say About our Boating Courses…
Here are some testimonials from those who have attended out Recreational Boating Courses…
Very Professional, Always Put Their Students First…
"Most of my family and I recently completed our Recreational Skippers Tickets at Aussie Boat Courses. We found them to be professional and they always put the students first. Their Training Coordinator was very patient and also a lot of fun; while some of us had prior experience we still learnt a lot from the course. I would highly recommend Aussie Boat Courses to anyone, of any age or skill level."
Roy – Mt Lawley
Course Was Very Well Run, I Will Recommend It…
"Jane and I would like to thank you for making the course an enjoyable and stress free event. Jane was a bit nervous at first during the practical session, but with your mild manner and positive demeanour you made her feel at ease and she passed with flying colours. We thought your course was very well run, and I will recommend your company to all my friends and associates who are looking at completing the WA Recreational Skippers Ticket."
Billy Hopkins
Implementation Co-ordinator
– North Rankin A Transfield Worley
– WEL (Integrated Services Contract)
Superb Manner In Which You Conducted The Test…
"This is just a short note to say thank you very much for the RST course you conducted for Dave and myself last week, I am really glad to have got it done and out the way before the rush hits next March!  Your delivery of the theoretical work was truly professional, and more importantly, easily understandable.  Also I really appreciated the superb manner in which you conducted the practical side of the test, it was most informative, and whats more, enjoyable too.
Peter once again thanks for a superb day, and I for one have no hesitation in recommending you as a supplier of the Recreational Skippers Ticket course."
Glenn Armstrong
(Recreational Skipper!!!!)